Johnny Angel's is still operating with Curbside, Take Out, Call-In/Pickup.
DINE IN AVAILABLE NOW!!!
RESTAURANT HOURS:
Monday – Saturday 7:00am-8:00pm.
Sunday 7:00 am – 7:30 pm
< 315-685-0100 or 315-406-3237
Fried Haddock Dinner
Served with Fries, Slaw
All for $9.99
Fried Haddock Sandwich
Served With Fries
For $8.49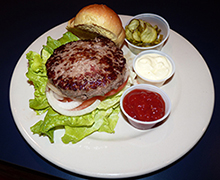 1/2lb Black Angus USDA Choice Grade Burger.
Same Great Burger, Better Price!!
All day, every Thursday!
Every Wednesday
One Free Kid Meal per Adult Meal